Follow

Your

Star!
I have spent my life working in the quarry of the word, setting milestones and constantly seeking excellence.
As an author I have written more than 40 books. Two of them became bestsellers, each selling more than a million copies.
As a busy publisher, I founded the classic self-publishing in German-speaking countries with my publishing house under the slogan »To the author in search of a publisher«. Ten thousand authors entrusted me their work to publish them in book form, and they were happy.

As a producer of TV, stage and radio shows, I have made many hearts beat faster.
As a creative AI artist, I am also at the forefront of the visual arts.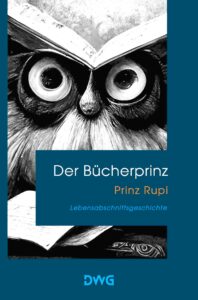 My life story »Der Bücherprinz« reveals how I went from being a hippie to »Germany's most dazzling publisher« (DER SPIEGEL).
I like black humor, filigree German, positive thinking and I love my readers: They are authentic, intelligent, thirsty for knowledge, curious, creative, open-minded, colorful and have a lot of humor.
In my home port, I offer articles, columns, interviews, reports, reviews, films, photographs and radio contributions that provide reading and listening pleasure for free. You can also find me there under the registered stage name Prinz Rupi®.